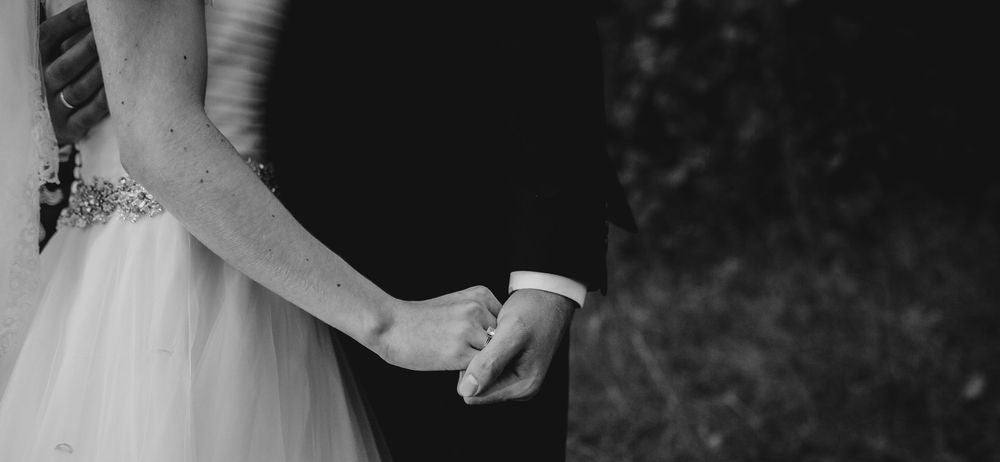 When it comes to weddings, summer may steal the spotlight but there's an undeniable charm to winter weddings that sets them apart. The unique season brings a magical ambiance and endless possibilities for creating an unforgettable celebration. The crisp air and snow-kissed landscapes provide the perfect backdrop for stunning fashion choices. In this post, we will explore the wedding preparations and dive into the captivating colors and atmosphere of the season. We will delve into the fashion, highlighting the opportunity to dress up and style the bride, her bridesmaids and guests and explore how you can include the holiday season's essence into your wedding outfits.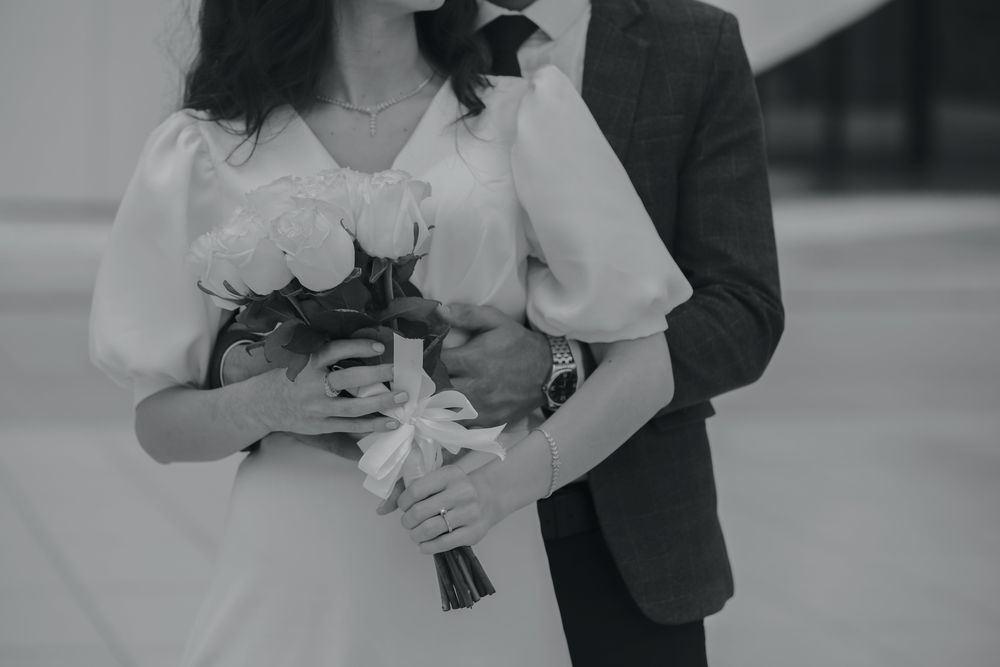 While summer celebrations are often associated with sunny skies and outdoor festivities, winter weddings offer their own set of enchantments. Snow-covered landscapes, flickering candlelight and cozy warmth of indoor venues are simply one of a kind.  Winter provides a romantic backdrop that allows couples to create a truly intimate and magical atmosphere for their special day.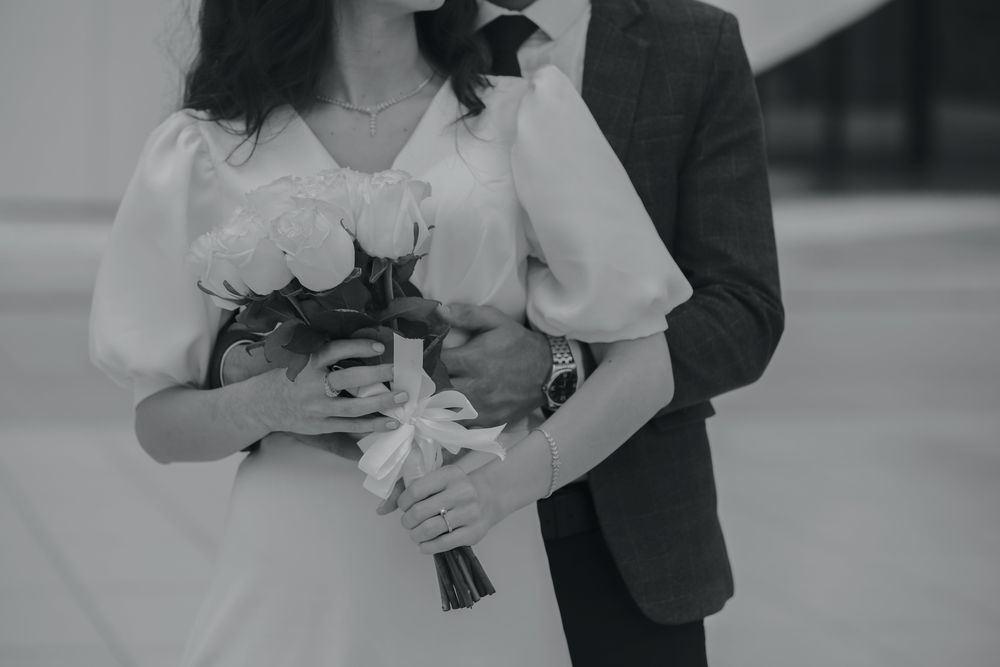 Couples who opt for a winter wedding often
appreciate the intimacy and exclusivity that the season offers. Winter is considered an off-peak wedding season, meaning that venues and vendors are more available and costs may be more budget-friendly. Additionally, with the holiday season in full swing, loved ones tend to be more available and open to traveling, making it easier to gather all the important people in one place to celebrate the couple's love.
Winter weddings are a chance to let your fashion creativity soar and as a guest, it's your opportunity to make a stylish statement. The season offers a beautiful array of hues that can be incorporated into the decor and attire.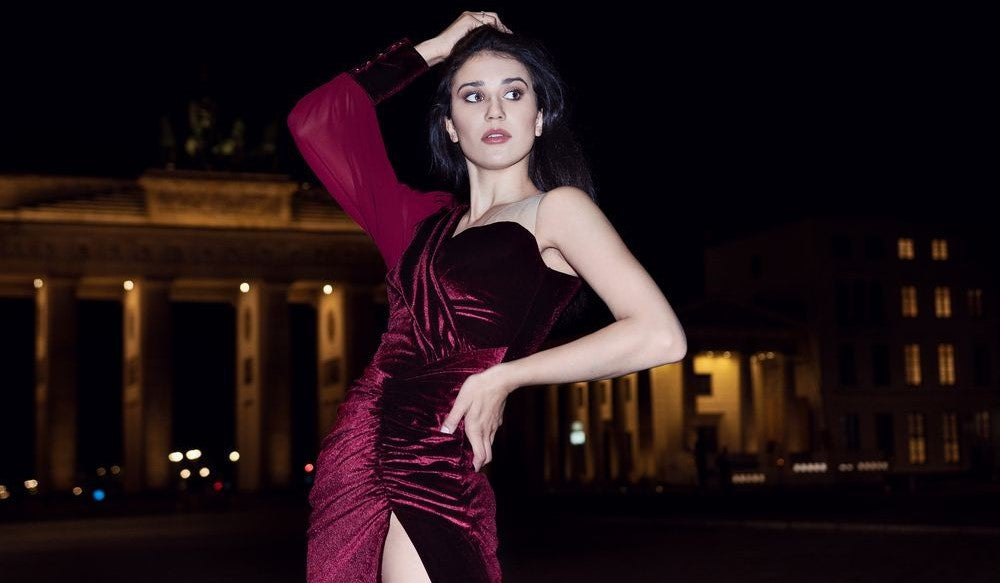 Think deep and rich tones like burgundy, emerald green, and navy blue, which evoke a sense of elegance and sophistication, You can also experiment with different textures and fabrics.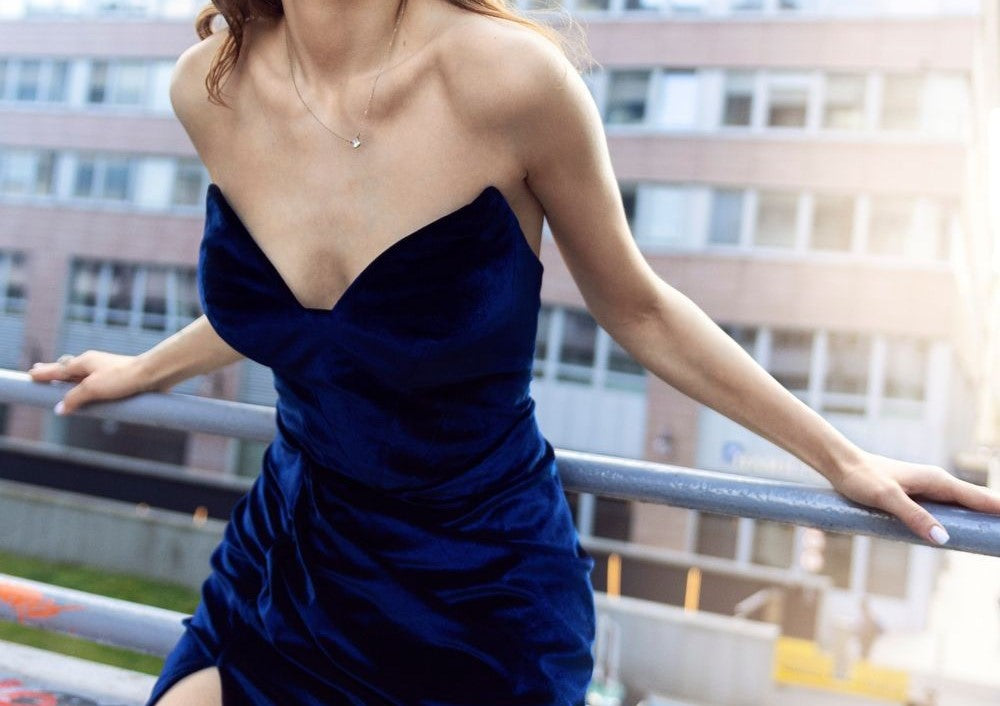 Velvet, with its soft and lustrous texture, adds depth and richness to any outfit, Satin drapes elegantly and creates a subtle sheen that catches the light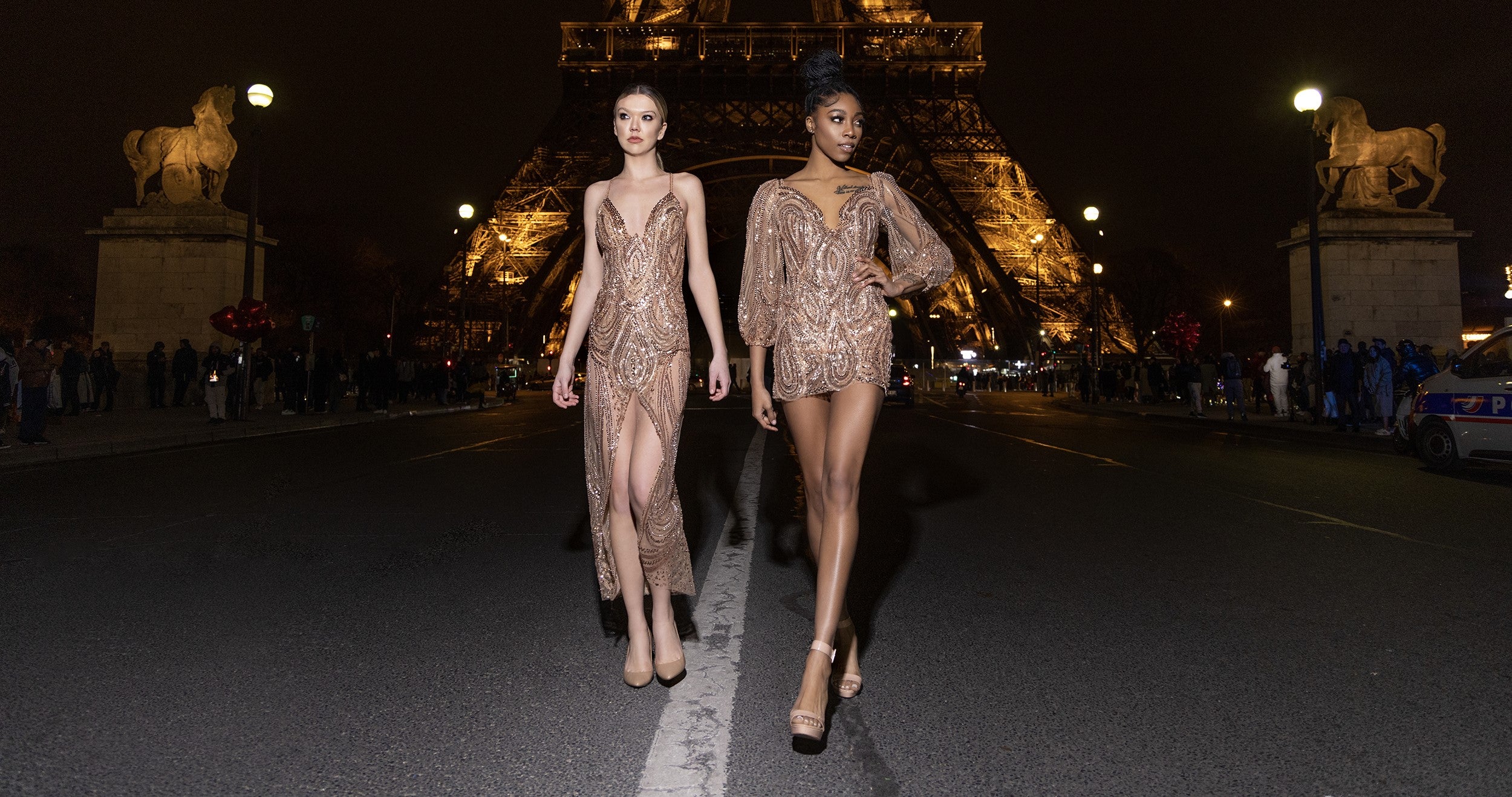 sequins add a touch of playfulness, perfect for a dazzling winter celebration. Silver, gold and shimmering metallics add a touch of glamour, reminiscent of glistening snowflakes
Tailoring and silhouette play a crucial role as well. Structured and tailored silhouettes bring a refined elegance to the occasion, while flowing and ethereal designs create a romantic and dreamy atmosphere. Whether you opt for a fitted gown with intricate beading or a flowing dress with cascading layers, the key is to choose a style that complements your body shape and makes you feel confident and radiant.
Angelika Józefczyk's creations are a true reflection of the enchantment and allure of winter weddings. With meticulous attention to detail and a keen eye for design, Angelika crafts dresses that are both unique and fashionable. Her collection is filled with shimmering details, such as intricate beadwork, sequin accents, and delicate embroidery, adding a touch of magic to every gown. The dresses cater to a variety of styles and preferences and are ideal for those seeking a fashion-forward look that exudes elegance and grace.
If you're planning a December wedding, why not embrace the festive spirit and infuse your special day with Christmas charm?
Green, red and gold are the quintessential colors of the holiday season. Incorporating these hues into your wedding palette will instantly infuse the atmosphere. The lush greenery, vibrant red accents, and shimmering gold details will create a visually stunning setting that perfectly blends the magic of Christmas with the elegance of a winter wedding.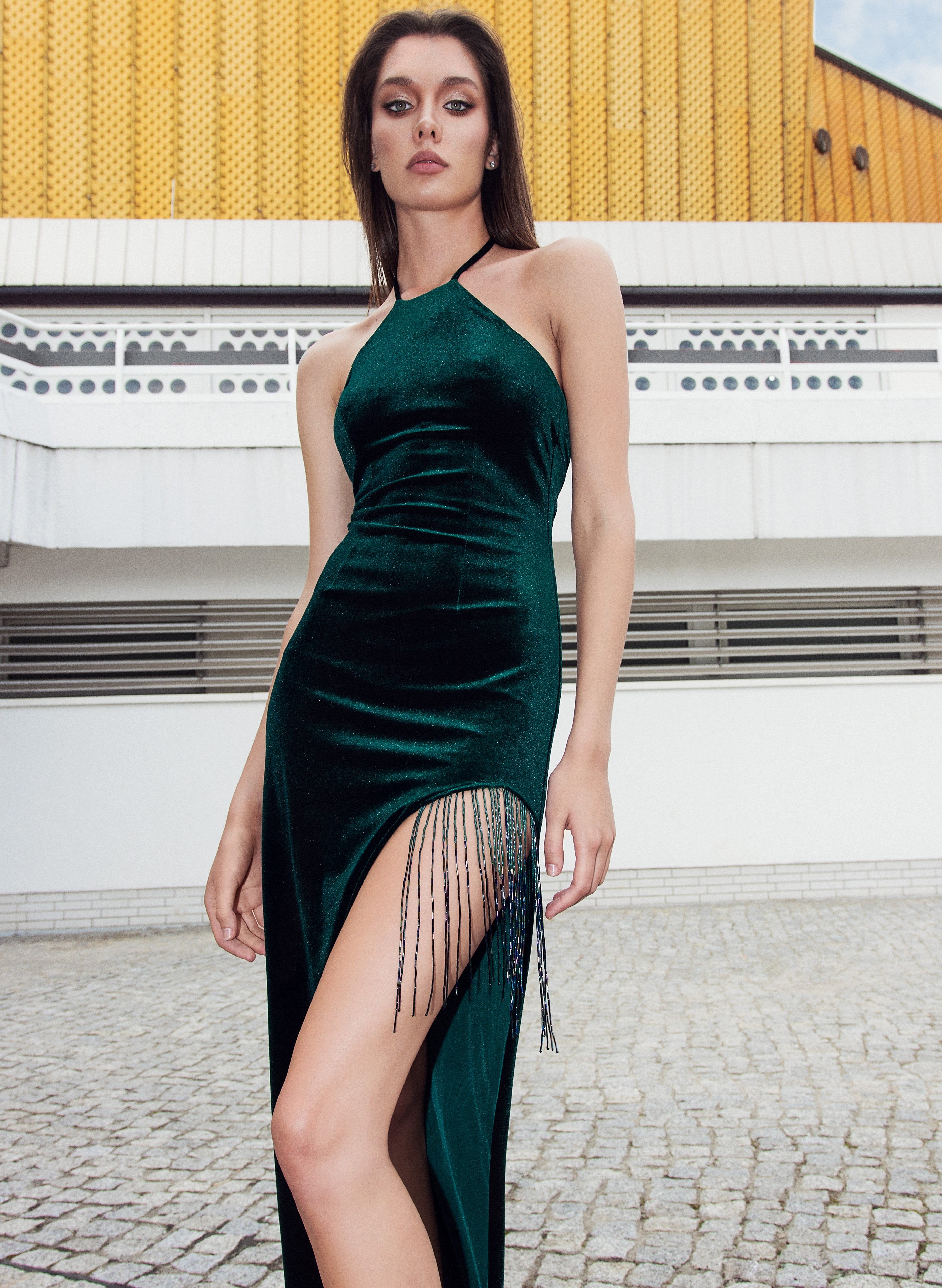 Angelika Józefczyk offers a range of velvet dresses in rich hues like emerald green, ruby red and deep navy. These dresses drape beautifully, hugging your curves in all the right places. Opt for a floor-length velvet gown to channel the regality of the season. If you prefer a more playful look, consider a short ruby red velvet dress that will make you the belle of the ball.
Velvet draped dress sofia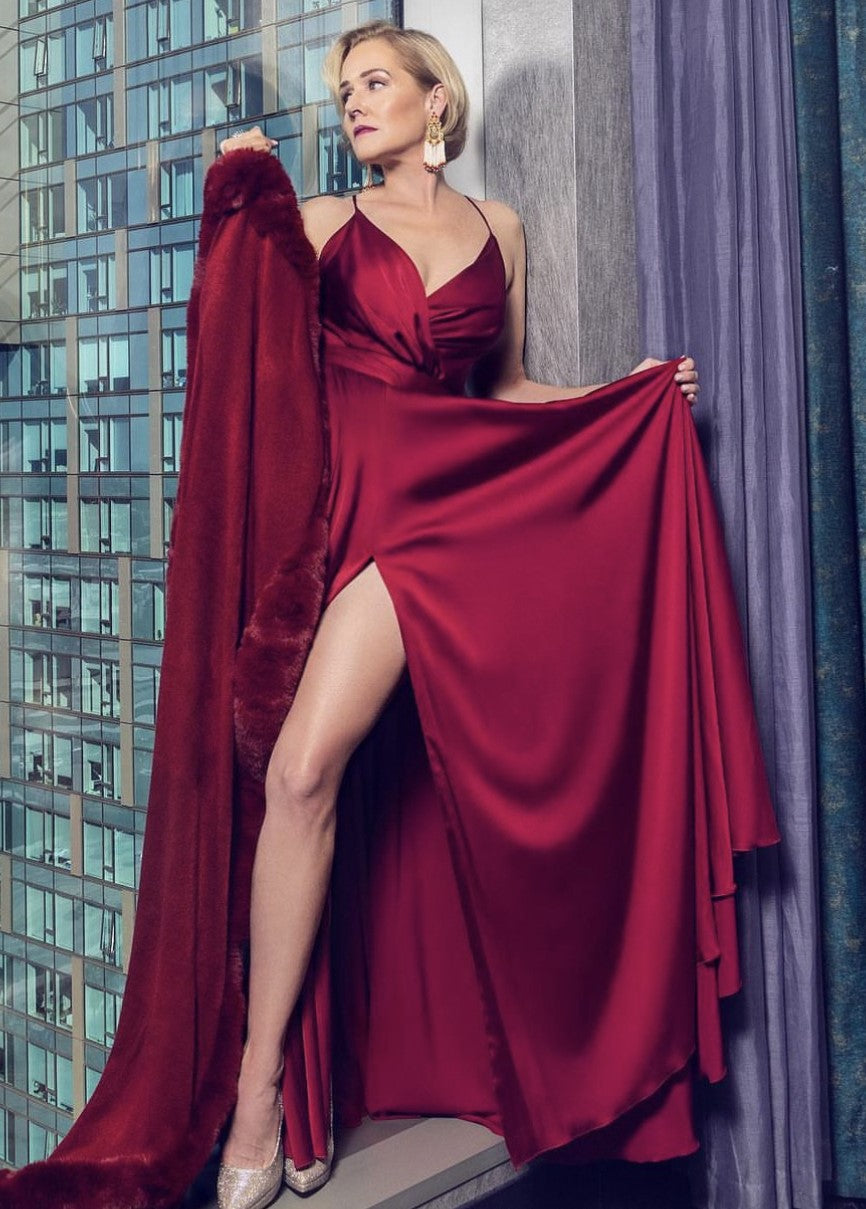 Angelika's satin dresses feature delicate draping, sleek silhouettes, and exquisite detailing. Choose a classic satin gown with gold embellishments to embody the purity and festivity of the season. For a touch of drama, consider a deep red satin dress that will make a bold and glamorous statement.
Satin Long dress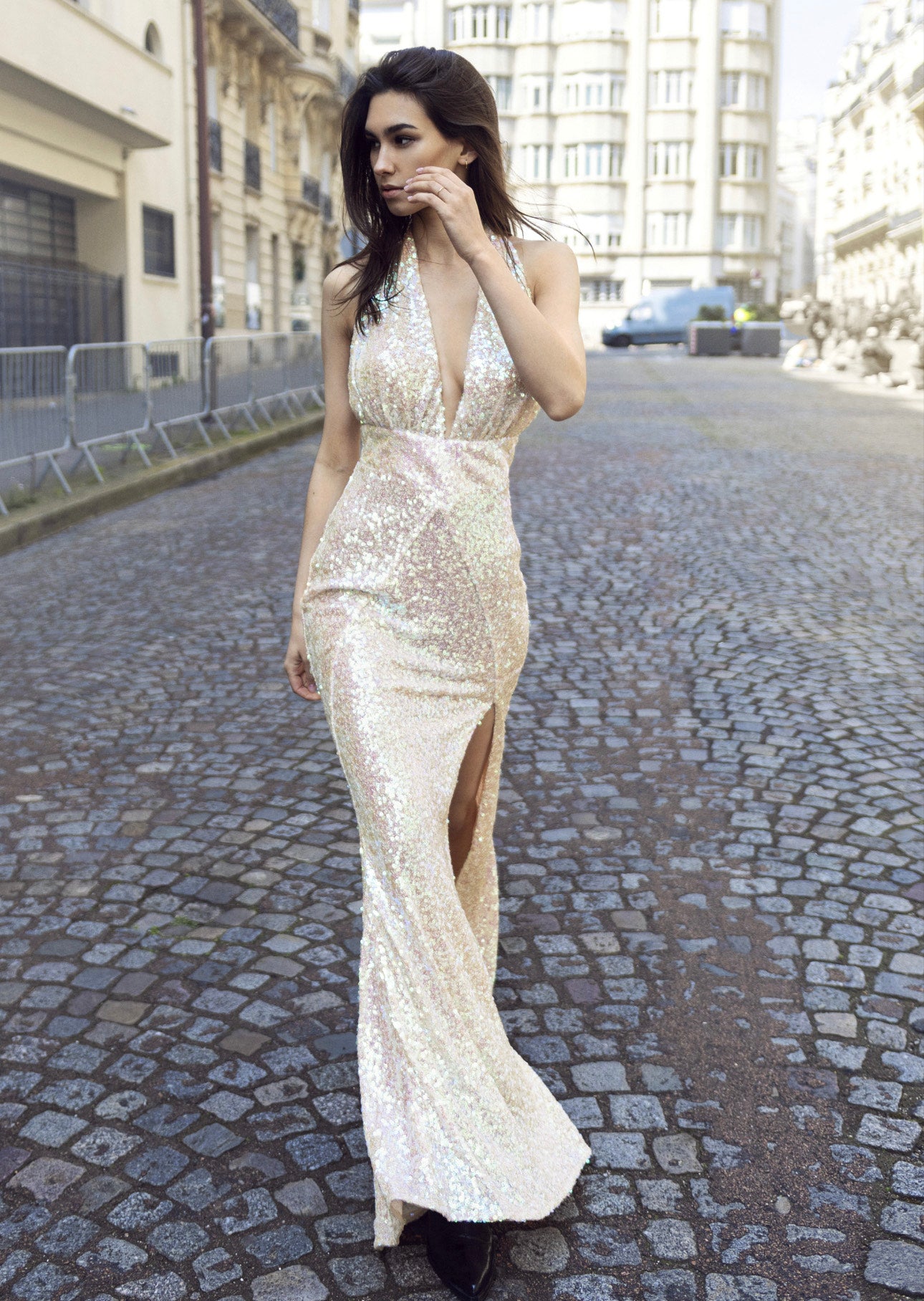 Angelika's sequinned dresses capture the sparkle of Christmas, they come in a variety of colors, including gold, silver and champagne. A gold sequinned gown will make you shine like a star on the special day, while a silver or champagne sequinned dress will add a touch of ethereal beauty.
lana evening gown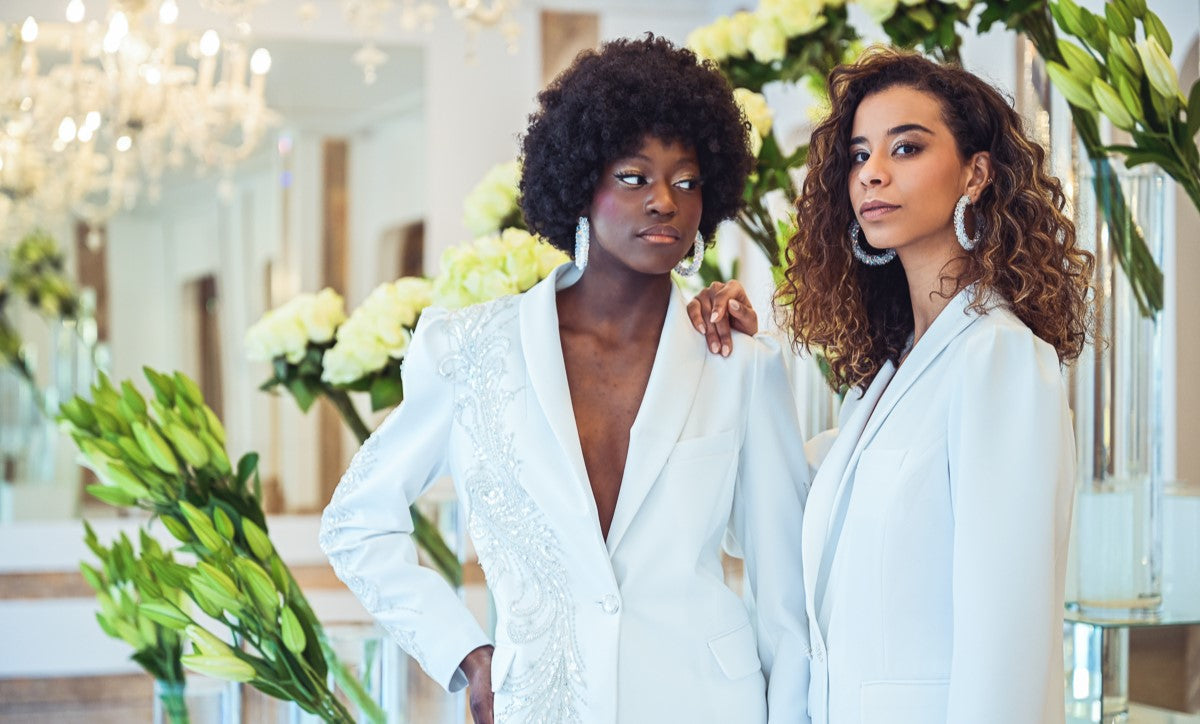 Breaking Bridal Norms
Weddings provide an ideal canvas for brides to express their unique style and embrace alternative options beyond
traditional gowns. The choice of attire should reflect the bride's
individuality and make her feel like the most radiant version of herself.
Traditionally, brides opt for breathtaking gowns that embody their personal style and reflect the grandeur of the occasion. Many of them opt for luxurious fabrics like satin, velvet and lace and the silhouette that varies from classic A-line or ballgown styles to sleek mermaid or sheath designs. Intricate details such as beading, embroidery or lace appliqués add a touch of enchantment and make the outfit truly special. However, modern brides are increasingly embracing alternative options, such as suits, that defy conventions and offer a fresh take on bridal fashion.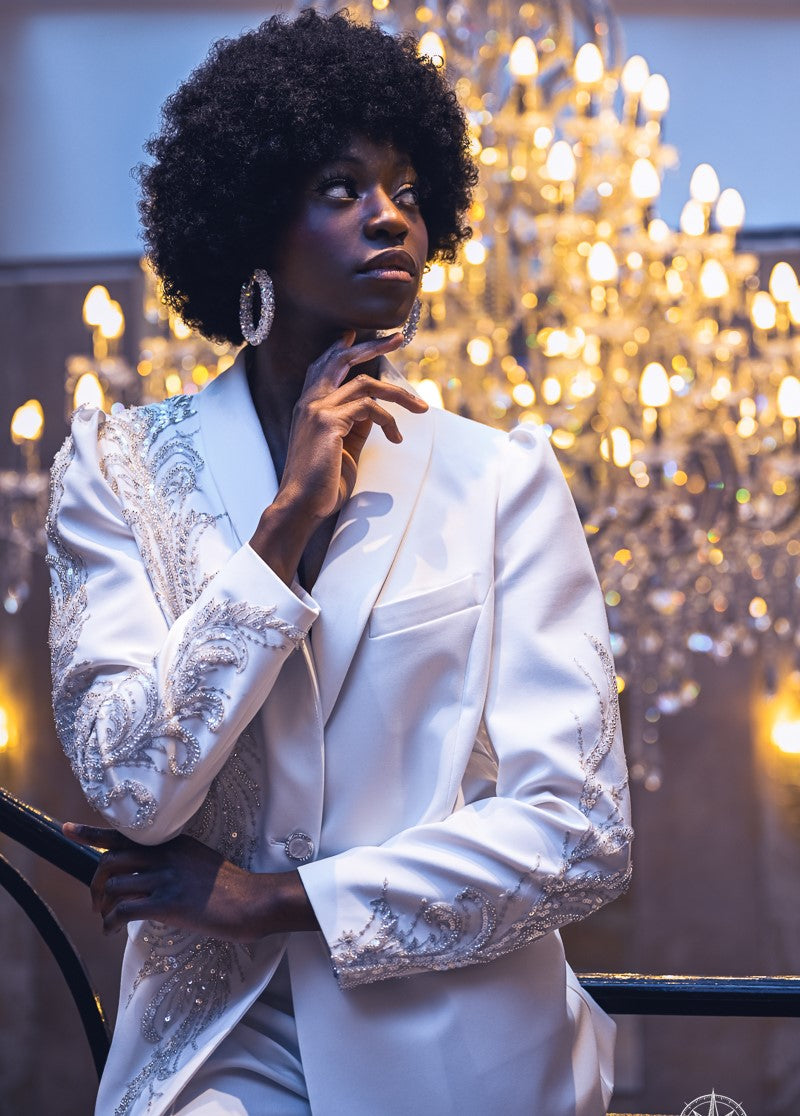 Suits provide a chic and sophisticated alternative for those who want to make a statement and break away from tradition.
Angelika Józefczyk's Emily Embellished Suit is a perfect example of a bridal choice that exudes confidence and individuality. With its details and tailored fit, it offers a contemporary twist while maintaining an unmistakable air of elegance.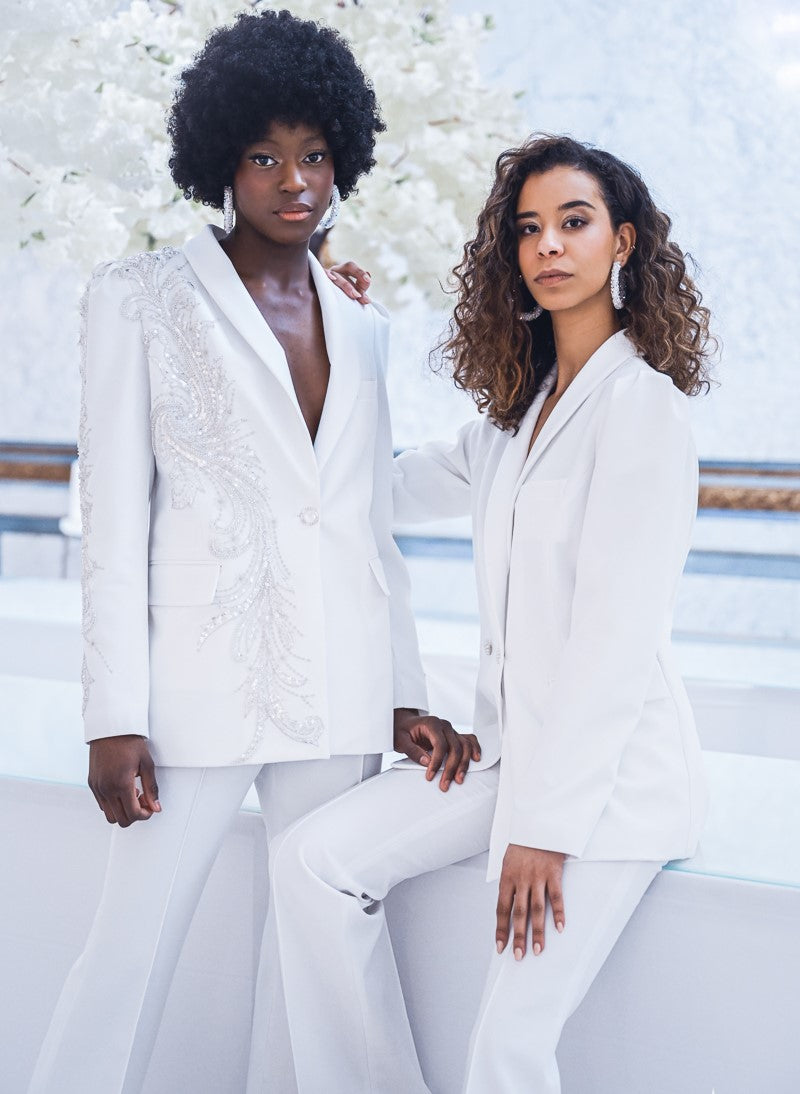 The Emily Embellished Suit can also be an alternative option for other pre-wedding events leading up to the big day. Whether it's a bachelorette party, engagement celebration, or rehearsal dinner, the suit allows the bride to showcase her unique style and stand out from the crowd.
Sale price
€735,29 EUR
Regular price
(/)
The Embellished Single-Breasted Slim Fit Women's Blazer

DESCRIPTION: Crafted from a viscose blend textile. Fitted shape emphasise the shape of silhouette. Embellished detail on the on of the sleeves gives a little twist in timeless classic style. Noticeable eco-leather buttons with gold like a details on single-breasted clasp and on the cuffs.
The suit is in the pair with a flare high-waisted pants. 
CARE: Dry cleaning only.
TEXTILE INFO: viscose blend textile, lining viscose & elastane. Made with a mid-weight delicate stretch fabric.
INFO: Fitted shape, long sleeves, length to the middle of the hips, eco-leather buttons through front & at cuff. The model is 178 cm and wears a prototype in size 36. The jacket is designed to be fitted. It is recommended to choose the size according to the brand's size chart.
Winter weddings are truly a captivating and unique experience. With the right preparations and attention to details, they can create a magical atmosphere that will leave a lasting impression on both the couple and their guests. So embrace the beauty of the season, style yourself in luxurious fabrics, and let the exquisite designs make you shine on this special day.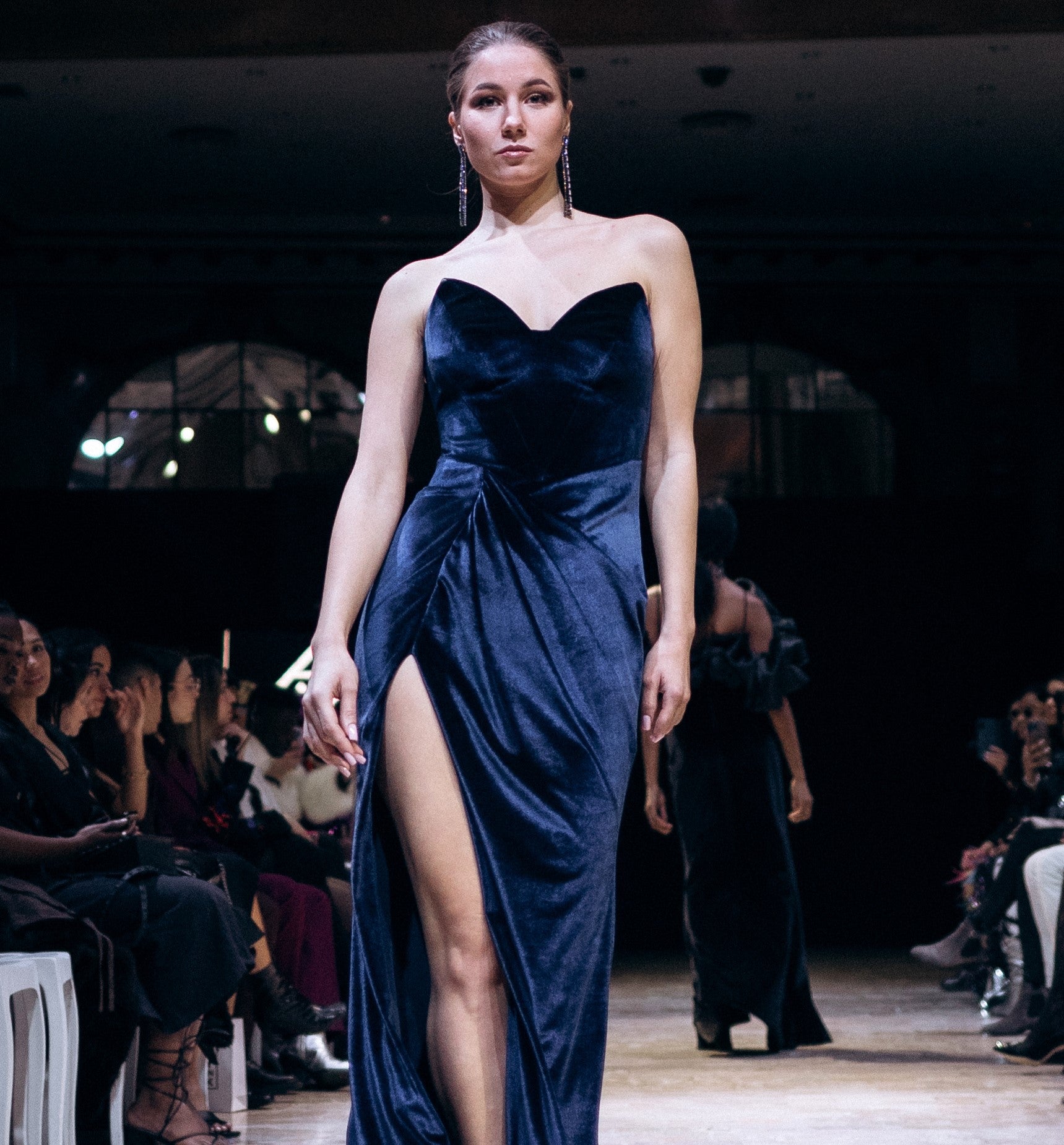 The charm of St. Nicholas Day. Origins, celebrations and traditions, a glimpse into Poland's festive atmosphere with Angelika Józefczyk's designs.
Read more